About Us
About Us
We are a small company that specialises in handmade Whitby Jet jewellery. All of our jet jewellery is made in our workshop in Whitby, North Yorkshire. Our craftspeople are highly skilled in all aspects of jewellery making and have many years experience of collecting jet, identifying high quality jet and making fine Whitby jet jewellery. We only use the best quality Whitby jet which we have either collected ourselves or sourced from a trusted local collector. This means we know the origin of every piece of jet before it is carved and polished.
Batch of carved jet heart and freeform pendants, jet drop earrings and charms in progress
Our History
Until October 2019 we were called Abbey Jet and have now changed our name to Aurora Jet. Our new name was inspired by the stunning Northern Lights, Aurora Borealis (see more information below.) Over the years we have built a reputation for excellent quality jewellery and personalised customer service.
The Origin of our Jet
We are one of only a handful of companies that still hand collect the raw Whitby jet ourselves, cut and polish the jet and then sell the finished product. When we are not in the workshop making jewellery we are usually out along the Jurassic coastline searching the seashore for pieces of raw jet. That way we can guarantee that only the best quality locally sourced jet is used in our jewellery. The jet we use in our jewellery will take a mirror finish and will never crack or break.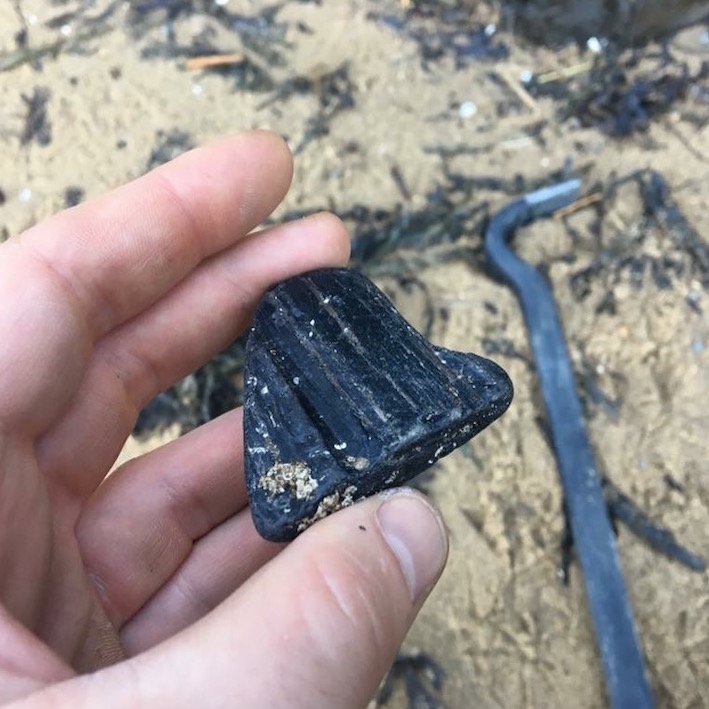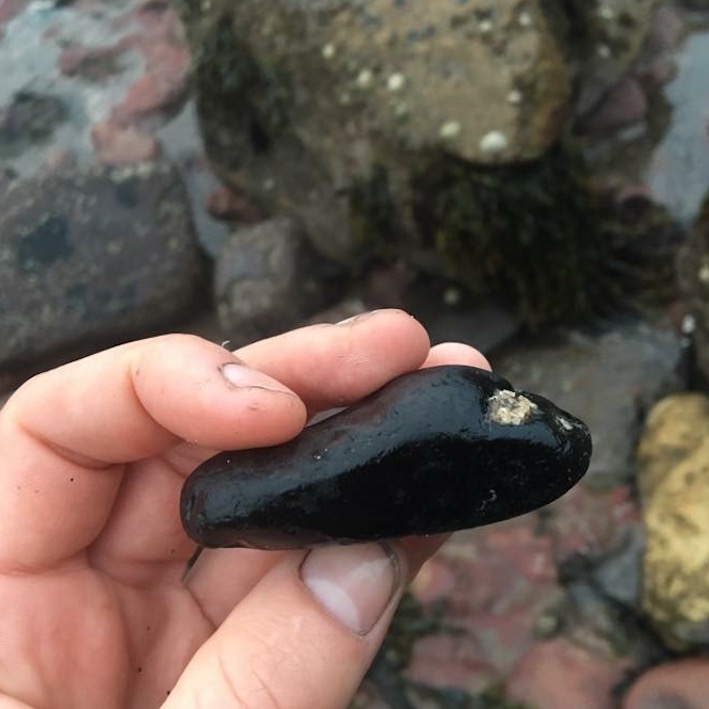 A pieces of sea washed Whitby Jet from Runswick bay An abandoned Jet mine at Kettleness A low quality specimen grade piece of Jet from Runswick bay
We are also continuously exploring the vast network of inland Whitby Jet mines that are spread throughout the North Yorkshire moors and Cleveland hills. Large quantities of the best quality Whitby Jet came from inland areas such as Scugdale and Westerdale during the Victorian era. These disused mines are now part of the North Yorkshire moors national park so cannot be worked.
Many of these mines are now collapsed but a few are still accessible with caution.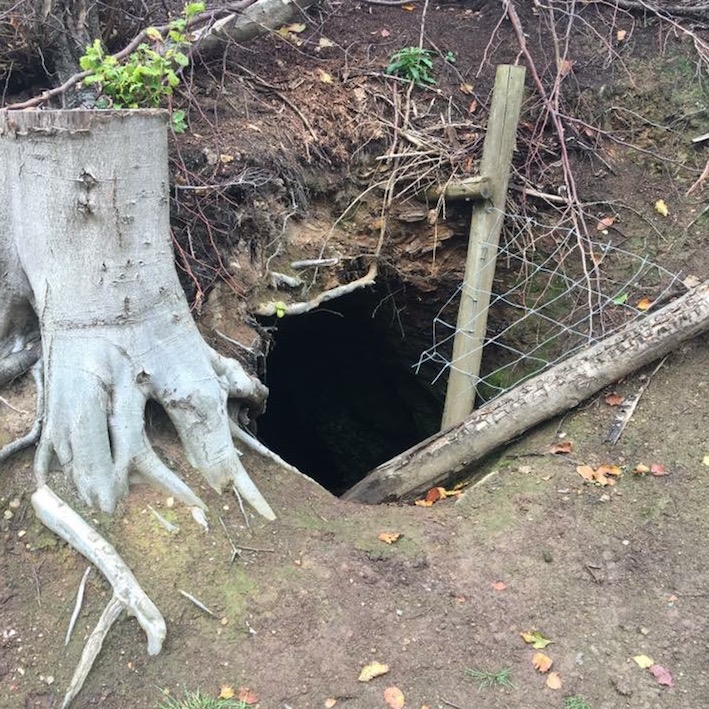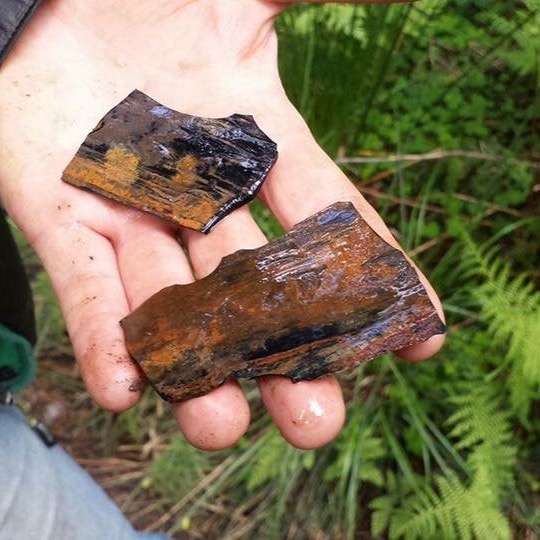 Abandoned mine entrance near Guisborough Pieces of jet found at Carlton bank in the Cleveland hills An abandoned Whitby Jet mine
Other Materials we use
All of the materials that we use in our jewellery and our packaging are carefully sourced and selected so that we can always assure a high quality, long lasting product. Our jewellery is made from either solid .925 sterling silver or 9ct gold. We have a large range of jet jewellery set in silver and gold as well as some freeform pieces such as hearts, natural shapes and jet drops. In addition to jet pieces we also offer a range of jewellery containing both jet and other gemstones such as Baltic Amber, Derbyshire Blue John, Swiss Marcasite, Kingman Turquoise and Lapis Lazuli. We have carefully selected these gemstones for their beauty and their affinity with Whitby Jet.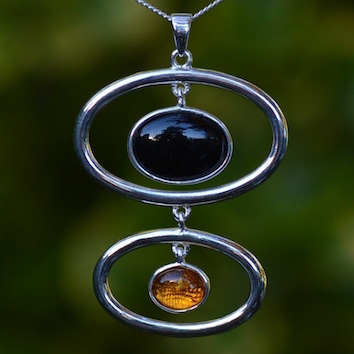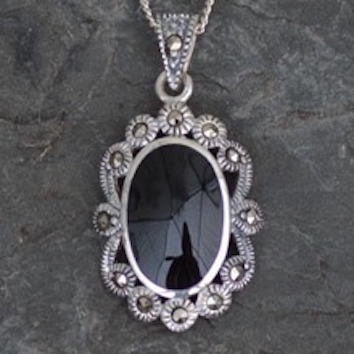 Jet and Amber cabochon pendant Jet and Marcasite pendant Jet and Turquoise Celtic bracelet
Our Jewellery
Our range includes both traditional, classic pieces as well as modern pieces and unique one off items. We are continually expanding our range so that we can offer an ever-increasing choice of beautiful high quality jewellery.
Carved Jet heart pendant Jet charm bead Band ring inlaid with Jet hearts
Our jewellery is available to buy on our website 24 hours a day and we offer fast shipping and a 30 day money back guarantee. Orders can be placed online or over the phone and we are happy to provide information and advice to help you choose the perfect piece of jewellery for your needs.
Our Customers
We are very customer-orientated, so we always take the time to listen to our customers' feedback and incorporate it into our decision-making. Over the years we have built up a high frequency of repeat custom which we feel is a testament to our emphasis on excellent quality jewellery and customer care. Please take a look at our 'Customer Reviews' page to see some of the lovely comments we have received:-
https://www.whitby-jet-jewellery.com/customer-reviews/
If you have any questions, feedback or suggestions please contact us!
Highly polished Jet freeform pendants
The Northern Lights, Aurora Borealis
In Whitby in 2015 we were lucky enough to experience rare sightings of Aurora Borealis. The two images on our homepage of the Aurora from Whitby's East Pier and from nearby Sandsend beach were captured by local photographer Glenn Kilpatrick. He has many more stunning photographs of the Aurora on his website, www.whitby-photography.com
* Aurora Jet is a registered trademark.